Check Your PC Audio and Speaker Easily With These 7 Online Sound Test Tools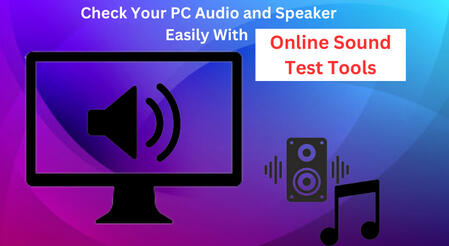 One of the major specifications that we look for before buying a PC is how good the sound quality is.An immersive sound experience adds to the thrill of a new game you're playing or brings life to the movie you're watching.And now that hybrid is the 'new normal,' and our day-to-day work conversations have shifted online as much as offline. So, you need your microphone and a speaker to function well for your daily Skype and Zoom calls.If you find yourself trying too hard to understand what's being discussed in the group call because they're not audible, or if you're playing your favorite music and it sounds lower than usual, then it's time to check the audio and speakers of your PC.It's essential to keep your sound system in perfect working condition, which is possible by testing it from time to time to ensure you don't face these issues and interruptions again.What is a sound test, and why is it important to check your speakers?Starting from ground zero, let me give you quick basic information about sound in our computer.Sound is stored in the form of a sound card in your system's motherboard. Along with this, pre-installed sound drivers help amplify the sound from the left and right speakers of your system.Like all drivers, your computer's sound system requires a timely check too. A sound test will pass sound waves through the right and left amplifiers which will tell you the status of your sound system.The easiest way to take this test is with the help of available online tools, and it takes just a few minutes for the entire process to be done.What do you need to look out for in sound testing tools?While the features of all sound testing tools are pretty straightforward, there are still some things that you should look for before opting for them. For example, it should provide a testing tool and as well as provide a solution if you notice there are problems with your speakers.Most of these online sound test tools will allow you to check your speaker and microphone from your browser itself, so I'd say stick with the tools that provide this convenience.Also, it's a huge plus point if the solution has guides and FAQs to help you better rectify the problem.Before we get to the list of tools, here's a checklist of things you need to keep in mind before doing the test:Make sure that the laptop is not on muteTest whether the drivers are up-to-date before taking the testEnsure that the microphone is connected to the audio jack in case you are opting for a microphone test as wellWith all that aside, let's look at some of the best online sound test tools you can use to check your PC's audio system.DeviceCheckerThis sound test by DeviceChecker is great as an all-rounder checker tool, as it offers a mouse, keyboard, webcam, and dead pixel test along with the mic test on the site.All you need to do is connect your microphone and other required accessories before taking the test.DeviceChecker also offers solutions to common problems faced by Ubuntu and Mac users.IObitOne of the most popular sound test tools, IObit offers a super-convenient way of putting your speakers to the test.You land on their website and check your audio function from the test available on the main page, allowing you to check both sides of the stereo. If you hear an equal amount of sound from both of them, then everything is fine with your speakers.This tool also offers several other fixes, such as fixing sound drivers and testing the audio of your microphone, which is very important in case your system doesn't pass the sound test.Online Mic TestIf you are someone who's facing problems with your microphone and as well as your speaker, then this tool is for you. Online Mic Test allows you to test your speaker and microphone seamlessly without downloading any software on your PC.The main page also gives you troubleshooting steps and FAQ guides which you can use to understand better the problem you're facing and how to fix it.If you want to take a step further, feel free to try out their audio-supported games to bring that zing to your test, and you can also explore their other tools, which include the keyboard, mouse, and webcam tests.Speaker TestYou can check out this Speaker Test tool if you frequently use your speaker and microphone with applications installed on your system, such as WhatsApp, Messenger, Skype, etc.Along with a system sound check, it allows you to test the sound integrated with these applications.All you have to do is select the application and device, and you'll be given the testing button to display the sound waves upon pressing it to help you identify the frequencies.Online Hardware TestIf you don't speak or understand much English, then an Online Hardware Test is an excellent option because it offers the website content and instructions in multiple languages.This tool lets you put your microphone and speakers to test and supports Windows versions as old as Windows XP. It has different steps for each version, so follow the correct one as per the one you're using.A2Z ToolsA2Z Tools swears by its name because it offers so much in various departments. For example, apart from the sound and other computer component tests, it offers:XML Sitemap checker
Binary to text decoder
URL slug generator
Centimeter to feet
Pound to short ton
Backlink checker
CSS Minifier
HTML editorMy Mic TestAnother web-based sound test tool that is free, My Mic Test, is user-friendly and provides accurate results for both of your speakers.It's compatible with most operating systems, such as Windows, Mac, Linux, Android, and iOS. The efficiency remains the same with all of them.It delivers the results quickly, without waiting, so you can get the job done in no time.ConclusionAs you've noticed, taking a sound test is pretty simple, so you should do it regularly to keep your microphone and speakers functioning well when needed.The above tools will ensure that you don't miss out on any important information while on a video conference or have interruptions while jamming to your favorite music.